Saatchi Galerie Online Wedstrijd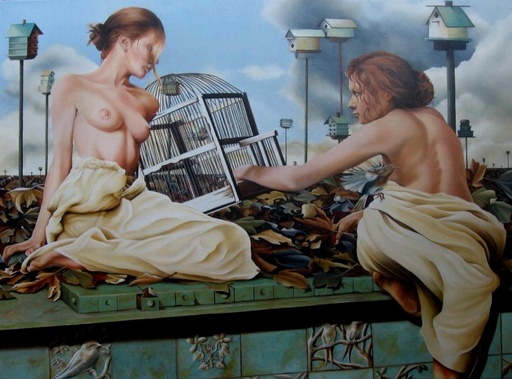 VOTE! STEM! VOTE! STEM! VOTE! STEM! VOTE! STEM! VOTE! STEM! VOTE! STEM! VOTE!
Vanaf Maandag 10 tot 18 Augustus 2009. Ik stel het zeer op prijs wanneer U dit schilderij een cijfer wilt geven op Saatchi-galerie. Ga naar http://www.saatchi-gallery.co.uk/showdown/PreviewArtworks/225478 Bedankt!
In a new initiative to generate more exposure for the artists in Saatchi Online and Stuart, and to spotlight their work to as wide an audience as possible, we have created SHOWDOWN. SHOWDOWN is for all registered Saatchi Online and Stuart artists to enter their works for visitors to score. The winner of the final head-to-head vote will receive £1000 and the runner up will receive £750. The winning work will go on display at the new Saatchi gallery. The process is as follows: on Monday mornings from 9 am (UK time) registered artists on Saatchi Online and Stuart have until 6 pm Sunday night (UK time) to load an image for Showdown All visitors are free to vote on all artworks, scoring them from one to ten (one being the lowest score and ten the highest) Voting takes place for the next seven days (Monday 9 am until the following Monday 9 am UK time). The two artworks with the highest overall scores go head-to-head. Visitors then vote on the two head-to-head works for a further seven days. After twelve rounds all the head-to-head victors enter a knockout phase, until the final showdown, to choose an overall winner. Throughout the seven day head-to-head vote, artists are able to enter one of their works for the next round of the contest, so that the process is continuous. Artists are able to enter every round of the contest that they wish to.